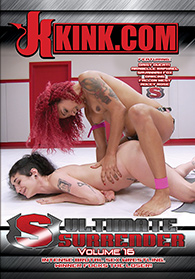 Release date: April 18, 2016
Intense Brutal Sex Wrestling, Winner Fucks The Loser!

Nothing is hotter than a sexy wrestler trapped in a hold, getting frustrated then made to cum on the mats. When the buzzer goes off, the punishment doesn't stop. The girl in control at the end of round 3 keeps the hold and fingers her opponent to orgasm.

This match between Savannah Fox and reigning lightweight champion Darling is arguably one of the greatest to ever grace the US mats. The loser is tickled relentlessly and spanked after she is brutally beaten and disgraced but the punishment keeps going and going.

Fallon West has been doing tag matches, picking up moves from team mates and it shows in this match. Adley Rose comes in as an absolute rookie, never having wrestled in her life. With a little more coaching, both these girls are going to be outstanding wrestlers and strap on fuckers!