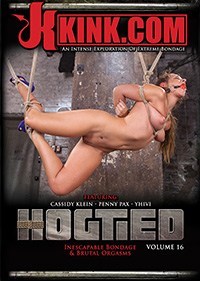 Release date: March 21, 2016
Fetish, Bondage!

CASSIDY KLEIN & THE POPE
Cassidy has never been suspended. She is still trying to figure out her limits but she knows that she loves bondage, so we have a starting point. It really doesn't matter because I refuse to take it easy on this fucking slut.

PENNY PAX & THE POPE
Penny finds herself tied to a bed on her knees which is how we like to see the girls around here. Her clothes are removed and used as a gag to keep this whore quiet. She's a little bit too saucy though, so to remedy that we issue corporal punishment.

YHIVI & THE POPE
Yhivi did her first porn shoot ever with me a couple of years back. She is hotter than ever and man has she blossomed. I start with her standing so that we can remove the clothes to expose her hot body. She squirms and begs, but I'm not about to stop.