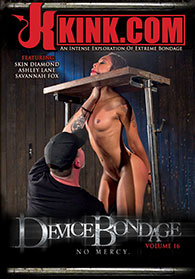 Release date: March 09, 2016
An Intense Exploration Of Extreme Bondage
No Mercy!

Skin Diamond is in a wooden stock, wrists restrained and mounted on a spinning platform. She is toyed with, flogged and made to endure breath control at the hands of her sadistic captor. The rewarding orgasm rolls her eyes back in her head as she spins out of control in ecstasy.

Ashley begins shackled to a wooden column, her throat and wrists locked down with cold steel. She is assaulted with extreme flogging and heavy impact. Then to mind fuck this slut, her wrists are released and she is given the chance to defend herself. This is when she proves what a pain slut she is.

Savannah is a cum slut, plain and simple. She quivers in ecstasy when you even talk about putting her in bondage. We begin with this whore standing, one of her legs pulled up to expose her whorish cunt. She is brutally tormented before being allowed to have her first squirting orgasm…bitch.