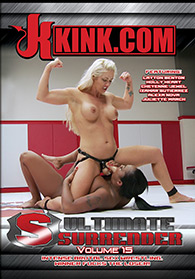 Release date: February 22, 2016
Intense Brutal Sex Wrestling, Winner Fucks The Loser!


Holly Heart & Layton Benton
We put Holly Heart against a rookie so she can squash her. The rookie is trapped on the mats and makes pathetic noises while she is finger fucked tirelessly. Holly shows no mercy and even makes the rookie quit before she can go 3 rounds.


Izamar Gutierrez & Cheyenne Jewel
Cheyenne Jewel has moved down in weight. Izamar out weighs her by a good 10 pounds. This is 100% competitive, lesbian erotic wrestling at it's finest. Both are great but only one can win, while the other gives the Ultimate Surrender.


Julietta March & Alexa Nova
Juliette March brings the pain to welcome our newest feather weight, Alexa Nova. Alexa is tough, flexible and puts up a fight. The loser is used brutally, then left naked and curled up like a pussy on the mats with a rubber cock stuck in her ass.