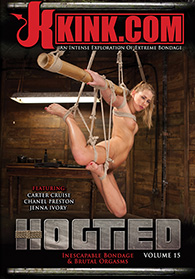 Release date: January 20, 2016
Fetish, Bondage!

CARTER CRUISE & THE POPE
Carter starts her day with her arms above her head and her legs spread, which I like to call the "get to know you" position. I add a few more ropes to intensify the bondage and stress on her legs. Not much of a pain slut, she still orgasms so hard that she goes to her happy place.

CHANEL PRESTON & THE POPE
I've been waiting for a long time to get Chanel tied up so that I could do hardcore shit to her. I've watched her blossom into a very powerful Domme over the years. That's not what she is here for today, but rather just the opposite. Ready bitch?

JENNA IVORY & THE POPE
In walks this blond bombshell that looks like Marilyn Monroe in a red dress, bright red lipstick and a body to die for. We get her tied up as fast as possible to ensure that she doesn't escape. The orgasms are powerful, make her weak in the knees and keep her on the edge all day.