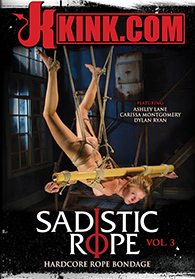 Release date: December 28, 2015
Hardcore Rope Bondage

Ashley Lane & The Pope
The brutality is more than Ashley has ever experienced and the anguish will be more than she can endure. This slut fights off the pain with earth shattering screams, but that doesn't make it stop and it only gets worse.

Carissa Montgomery & The Pope
Carissa comes in saying how much she loves tight bondage, so we start the day by tying the slut to the ceiling of a prison cell. She is spread eagle and helpless to what is going to happen next.

Dylan Ryan & The Pope
We only cut out the camera moves for this scene, which means you will see everything that happened to Dylan, from the point the rope hits her body, all of the rigging and all of the rawness until her final squirting orgasm.