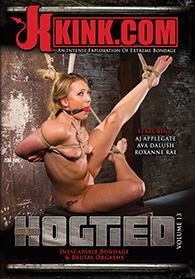 Release date: September 21, 2015
Fetish, Bondage!

AJ APPLEGATE & THE POPE
AJ is far from being a pain slut, but she likes to get tied up and used like one. Her sexy little body is manipulated into several stress positions that render her completely helpless. She got what she could handle and then made to cum more than she deserved.

AVA DALUSH & THE POPE
Ava finds herself tied with her hands above her head and her legs spread wide. I plan to enjoy and torment every inch of her amazing body. This whore quickly shows her true colors and the slut in her comes out. Every bit of pain leaves her wanting to get fucked.

ROXANNE RAE & JAMES MOGUL
Roxanne is in a bad area, not paying attention to her surroundings. Suddenly, she is accosted and taken to a dark dungeon. Put in a multitude of bondage positions, she is tormented and fucked to multiple shrieking orgasms. Pay attention next time, bitch.