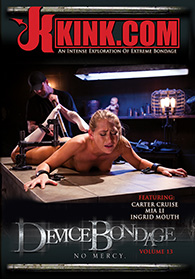 Release date: September 10, 2015
An Intense Exploration Of Extreme Bondage
No Mercy!

Carter is the perfect California girl who decided to take her bondage experience to the next level with us. She begins bound to our throne with leather and steel, then gets a powerful warmup with the flogger before we wrench the first of many orgasms from this slut.

Today is going to be Mia Li's reckoning, and it will come in the form of extreme suffering. Her slut holes will be utilized to their potential as she is locked into place to ensure she will orgasm as long as we see fit. Anticipation is her worst enemy.

Ingrid finds herself perched with her arms pulled behind her, legs spread wearing a gas mask to restrict her breathing. Completely helpless, the pain comes rushing in overwhelming her entire body. Welcome to Device Bondage bitch.