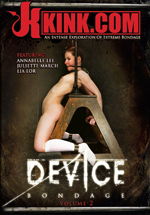 Release date: November 04, 2013
An Intense Exploration of Extreme Bondage!

Annabelle Lee is as cute as they come but has delicious dark fantasies. Watch this slut earn her pig nose, tail and a pig butt plug. Her orgasms are so intense they seem almost painful. This bitch repetitively explodes and surrenders to unforgiving metal, wood, and leather.

Petite brunette Juliette March has an intense gaze about her. A true depraved pervert, no amount of bondage will satiate her need for restraint. She comes back again and again like a junkie chasing the dragon. I like her addiction and I'm interested in feeding the monster.

Lia Lor is your perfect girl next door. A sandy blonde beauty that gets served a challenging Device Bondage experience fresh and hard. Claire's goal is to orgasm this cunt until she begs for the pleasure to stop. Quickly Lia is overwhelmed with the amount of orgasms coaxed out of her slutty little hole and swollen clit.