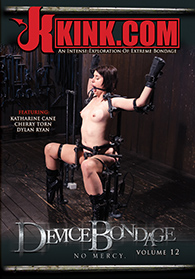 Release date: July 13, 2015
An Intense Exploration Of Extreme Bondage
No Mercy!
Katharine is back for another session and this time Orlando has her all to himself. She struggles to get free from the devices, but her attempts are met with failure. She's helpless and all of the struggling in the world won't change that, but it is hot to watch her try.

Dylan is restrained in wooden stocks around her neck and wrists, her ankles locked down in steel pipes, clothes ripped away and her body exposed to the brutal thrashing as she squirts in excruciating ecstasy. Welcome to Device Bondage bitch.

Cherry Torn just might be in over her head at the hands of wicked Orlando. No amount of grueling torment is enough as screaming orgasms are ripped from this pain slut. The brutal assault brings her to the breaking point…will she endure?