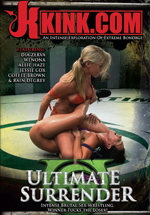 Release date: October 16, 2013
An Intense Exploration of Extreme Bondage! Intense Brutal Sex Wrestling, Winner Fucks The Loser!

Dia Zerva is a monster; she totally destroys this wrestler whom some consider an "elite". Wenona is helpless against the former marine. Dia gets Wenona trapped in a couple of inescapable holds and finger fucks her for minutes at a time. Wenona comes close to being made to cum, but at least she's able to hang on to that dignity.

Allie does not make it easy for Jesse who has considerable experience over her, but Jessie digs deep into her core to pull off a tough Ultimate Surrender victory. Some great holds in this match, and an amazing Round 4 where Jessie brutally fucks a losing Allie Haze. Brutally might be an understatement...

Coffee Brown is almost all solid muscle, but Rain dominates and destroys her stronger opponent from the start. She also brings the smack-talk to the mat. Not only does she submit her opponent multiple times, but she rubs it in as well!