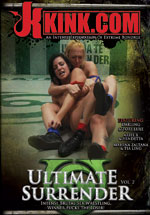 Release date: December 16, 2013
Intense Brutal Sex Wrestling, Winner Fucks The Loser!

Ariel X & Vendetta
Last year Ariel X beat Vendetta to deny her back-to-back championships, and was crowned the Season 6 Summer Vengeance Champion! Vendetta looks her best in years; she trimmed down and is as fit as she has ever been. With a lifetime record of 21-3 she's is no stranger to the pressure and is determined to make Ariel pay for defeating her last year.

Darling & Tori Luxe
Tori Luxe honestly thought she might win this match but she underestimated the skill involved. Darling wipes the mat with this cocky upstart. Using brutal leg scissors, head locks and painful submission holds, Tori is abused, beaten and fingered on the mat. That's nothing compared to the vicious round 4 poor Tori endures as Darling brutally fucks the living hell out of her!!

Mahina Zaltana & Tia Ling
Mahina Zaltana learns in the first 10 seconds that she is in some serious trouble. It takes about that long for Tia Ling to jam her fingers up her pussy and ride her like a whore on the mat. You have to give credit to the new girl - she never gives up, but she is helpless to the much more experienced smaller girl who humiliates her on the mat, then fucks her like a common slut in round 4!