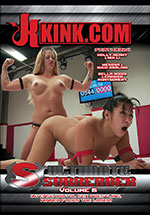 Release date: August 18, 2014
Intense Brutal Sex Wrestling, Winner Fucks The Loser!

Wenona and Nikki Darling
We see early on that Wenona can easily overpower her smaller opponent. Although, Nikki Darling has the muscle, she just doesn't have the kind of experience Wenona has. What Nikki does have is an uncanny ability to rip orgasms out of her opponent while her opponent is in control!

Bella Rossi & Carissa
Bella Rossi takes on another new cummer today, but this new girl has some experience and she has some tits and ass to make her a triple threat! The Brawler knows how to move and she's strong, but she keeps getting stuck under Bella's huge titanic tits.

Mia Li & Holly Heart
Mia Li is back trying to win her first match this season, and the aggressive Holly Heart is again on our mats taking on another rookie. Win or lose, both these girls look hot doing what they do. A hot blonde big tit wrestler babe going against a hot big tit Asian babe is a wet dream cum true!