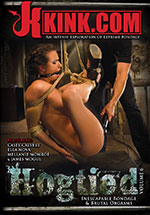 Release date: July 21, 2014
Inescapable Bondage & Brutal Orgasms!

Casey Calvert, James Mogul
Casey Calvert endures non-stop brutal rope bondage and inescapable orgasms through six different positions. James has fun with this tasty little slut. This one is awesome!

Ella Nova, James Mogul
Gorgeous newcomer Ella Nova is staged to take the Kink world by storm, and we twist the bound beauty's body into the perfect position to pummel her pretty pussy till she can't talk straight. She is getting tired but we are only getting started...

Melanie Monroe, James Mogul
Big Ass Mellanie Monroe brings her beautiful curves to Hogtied for us to tie her wide Open. Her big ass is cleaved with rope to expose all her holes for us to torture and fuck. This juicy slut takes everything we dish out…Hogtied style!