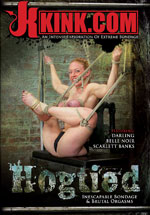 Release date: September 30, 2013
An Intense Exploration Of Extreme Bondage! Inescapable Bondage & Brutal Orgasms

Hot off the press and bondage newbie Belle Noir gets it good. And the amount of orgasms coaxed out of her holes is astounding!

Beautiful Scarlett is a tough bitch and Claire loves the challenge as she wrenches orgasms out of this hot slut.

Darling's body is bound in outrageous positions as she cums like she's in pain…but all that does is turn us on!