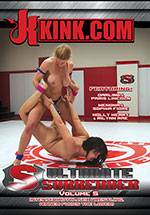 Release date: June 16, 2014
Intense Brutal Sex Wrestling, Winner Fucks The Loser!

Wenona and Sophia Fiore
Wenona is confident that her experience will help her get past real life Amazon, Sophia Fiore. Sophia has 40lbs on Wenona and has only wrestled twice before her match today, but she is confident her mass will get her the win. Two strong, muscular women are fighting for control on the mat, but one must give up the Ultimate Surrender.

Holly Heart & Rilynn Rae
Holly "The Hitman" Heart took some time off, but she's back to kick ass and take names. The only problem is, her first match back is with one of our biggest, strongest girls, Rilynn Rae. Holly has more experience, but Rilynn's cardio could be the key to victory. The loser is brutally fucked and tortured with tickles until she concedes that the winner is better at everything! Total Domination!

Darling & Paris Lincoln
Darling impressed us all in Summer Vengeance when she was able to get a camel clutch submission on the flexible Bella Wilde. That match opened the flood gates for Darling. This is Paris "The President" Lincoln's first match for Ultimate Surrender. She was just the perfect victim for Darling. She's flexible and gets incredibly wet when she's in pain.