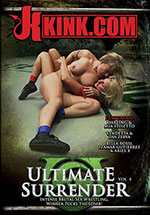 Release date: April 21, 2014
Intense Brutal Sex Wrestling, Winner Fucks The Loser!

Darling & Mia Stiletto
Darling is one of our top 5 elite wrestlers, while rookie Mia Stiletto is taking the mat for the first time. Mia believes her strength and size will make her a dangerous opponent on the mat. Watch and see how this one plays out for the cocky rookie.

Vendetta & Dia Zerva
Dia Zerva is sporting the highest power rating of any wrestler in the history of Ultimate Surrender, and Vendetta looks the best she has in years. She's trimmed down and is as fit as ever. Watch hese two warriors face off in some brutal action!

Bella Rossi & Izamar Gutierrez
Previously, Izamar Gutierrez waltzed on to the mat as a rookie and destroyed Bella Rossi. In this grudge match one of them dominates so much that the ref gives the losing wrestler "shame" points, decides that she'll fuck the winner instead, and makes the loser sit and watch the whole thing. Poor fucking loser.