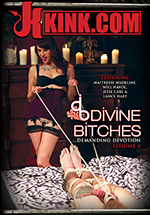 Release date: April 07, 2014
An Intense Exploration of Extreme Bondage Divine Bitches…Demanding Devotion!

Will Havoc walked through our doors with Maitresse Madeline's non-negotiables in tact: cool confidence, unabashed kinkiness, intelligence and rugged attitude. She remained professional though and did what she does best which was seduce the fuck out of this guy, show him what it feels like to be at the mercy of a strong woman and of course, milk his prostate like there's no tomorrow.

Maitresse Madeline is a predator who hunts random naive guys in men's restrooms. Imagine if you will you are taking a piss and there she is, behind you grabbing onto your cock while you finish your business. She has you under her spell and takes control of you, using you for her amusement. This is EXACTLY what happened to Jesse Carl and all he was trying to do was take an innocent piss!

Maitresse Madeline oozes sex and purposely teases and denies Lance Hart over and over again bringing him to the very edge of ecstasy and then snatching it away from him. Madeline milks his prostate giving him multiple mind blowing orgasms while prostate fluid continues to pour from his cock. This goes on and on bringing Lance to the point of pure submission.