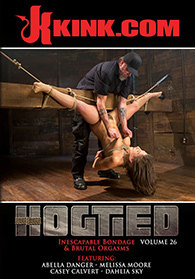 Release date: May 09, 2018


Abella is subjected to devastating bondage with brutal inverted suspension at the hands of The Pope. The torment is what makes most tap out, but Abella craves it and can't imagine life without it. The orgasms are just as powerful as every other part of the day as she screams her way through those too.

Melissa is a sexy young lady that started out wanting to know more about bondage but quickly became a bondage slut at the hands of The Pope. The torment introduces her to a feeling that she's never encountered before, yet she embraces the pain as it warmly overtakes her body and mind.

Casey and Dahlia are both known for being tough girls who really love bondage and torment. The Pope tries to make them break by putting them both in predicament bondage, if one shows weakness the other suffers more. The Pope uses their holes however he wants and brings them both to screaming orgasms.