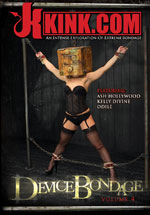 Release date: March 05, 2014
An Intense Exploration Of Extreme Bondage

Ash Hollywood is tenacious, tight bodied, and full of determination. She asked to be pushed and she got exactly that, in every scene. We began to wonder if this is really what she signed up for... too late now because our aim is to push her hard with cruel bondage.

Kelly starts out bolted to the floor, legs in the air with her pussy and asshole completely vulnerable. Tom puts clover clamps on her pussy lips and stretches them as far she can take while he canes her feet. She screams for mercy but alas, this is only the beginning…

Odile has been begging for attention from Mz Berlin for months. The cunt should be more careful of what she wishes for. Clearly this bitch needs to be schooled but then again she's only good for one thing - being a whore.