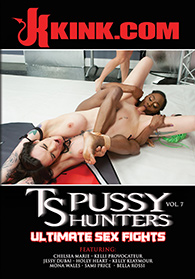 Release date: November 22, 2017


Jessy "Kiss Your Ass Goodbye" Dubai and Holly "Heartless" Heart meet on the mats today to fight for sexual supremacy. Winner takes all in this extremely exciting sex fight where the loser will be bound, cuffed, fucked, and humiliated. Jessy wins the match and drags Holly to the locker room for some sexual domination. Holly is dominated as she sucks and fucks Jessy's hard cock until she shoots her load all over the losers pussy.

Kelly Klaymour and Mona Wales take each other on to see who the best sex fighter is. In this all out "Battle of the Bitches" they must wrestle, gain control, and try to make their opponent orgasm as many times as possible. Kelly rips two incredible orgasms out of Mona and takes her prize as today's champion. This truly is an amazing must see fight!

Sami Price and Bella Rossi go tit for tit in this no holes barred wrestling match. These two babes put it all on the table to take home the belt and to take what is rightfully hers in the prize round. The action is back and forth until Sami takes control and makes Bella cum on the mats. After being crowned the winner, Sami ties up Bella and fucks her hard until she fills her tight pussy with her creamy load.

Chelsea Marie Vs Kelly Provocateur is the match we've all been waiting for. These girls go for one long round of wrestling trying to sexually destroy each other using their strength and skill to overpower and dominate. Kelly wins then makes Chelsea worship her muscles before strapping on a cock of her own and taking that tight asshole as her prize. Kelly milks the cum out of Chelsea's cock all over her chocolate titties and then gets her giant clit licked until she cums all over the mats!