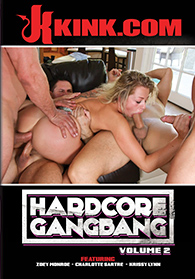 Release date: July 12, 2017
Runtime: 2 Hrs 42 Mins

Welcome 19 year old Charlotte Sartre to Hardcore Gangbang! Charlotte blackmails her politician mother in hopes to get a fat stack of cash and all her holes filled airtight! The blackmail works and before you know it this tiny, tight, 19 year old has huge cocks filling all her holes. The men just toss her little body around practically breaking her in two with their hard dicks then covering her holes and face with loads of fucking cum!

Zoey Monroe has been trading sexy letters with a thug in prison who she is trying to rehabilitate. She becomes infatuated and begs her pen-pal to behave so he can get released soon. She shares a dirty fantasy with him: to take her by surprise with all of his thug friends and give her the gang bang of her dreams. She longs to be taken down and used as a blonde fuck doll. Stuffed in every hole, ass pounded, face fucked and used as a cum rag.

Krissy Lynn is a woman who wants to be fucked and who are we to deny her? Hard rough sex, deep double penetration, wet messy blow bang and multiple cum loads on a begging spread asshole.