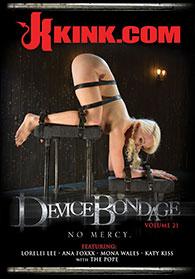 Release date: April 12, 2017
An Intense Exploration Of Extreme Bondage
No Mercy!

Ana Foxxx, ebony goddess, is destroyed in brutal predicament bondage. She suffers through brutal torment and is made to cum against her will. Her limits are pushed with the extreme predicaments that the bondage holds her in. her pussy and mouth are stuffed with huge dildos as she suffers.

Lorelei is stunning at everything she does and this is no exception. She is put on display in grueling bondage and then tormented. Her body is abused for our pleasure, her mind is bent to please us, and her holes are all filled and fucked because we wanted them that way.

Mona is one of the most sadistic Fem Dommes in the Armory, but from time to time she likes to be on the receiving end of the suffering. Today she proves that she can take as much as she can dish out. As The Pope unleashes powerful domination and extreme torment on her. The suffering puts a smile on this pain slut's face that proves she is one tough bitch!!

Katy Kiss is a sexy young red head that gets her first taste of brutality in device bondage. She is shown what suffering really is and learns quickly that her smart-ass mouth only makes things worse.