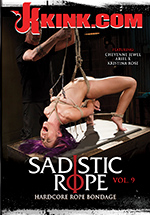 Release date: March 27, 2017
Cheyenne Jewel transforms into a screaming slut after a session full of heavy predicament bondage, brutal torment, caning, hot wax, nipple torture and finally having her holes forcefully fucked.

Watch a strong, confident business woman's desperate struggle as Ariel is bound, with The Pope's sadistic rope biting into her straining flesh, obscenely splayed and subjected to exquisite, brutal torments leading to the ultimate, inevitable surrender.

Kristina Rose is helpless in tight bondage. The Pope makes her suffer with some of the most intense punishment she can endure. Being gagged and hogtied is only the beginning for this submissive, and her body is forced into whichever positions leave her the most open for the inevitable exquisite pain and orgasms.