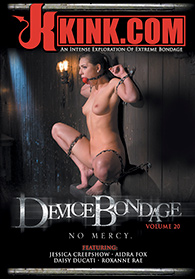 Release date: January 30, 2017
An Intense Exploration Of Extreme Bondage
No Mercy!

Jessica is a tough little slut and The Pope intends on testing every limit she has. She is locked into inescapable devices and made to endure extreme punishment. She is taken as far as we can take her and she gives us squirting orgasms to show her submission.

Aidra is a young, hot slut that wants her boundaries tested. Pain and suffering is what she wants, and that's exactly what she is going to get. Her body is subjected to brutal predicaments and halfway through the second scene her body gives out and we have to change positions. She is pushed harder than ever before and can't wait to have more.

I employ Daisy to co top with me to utterly destroy Roxanne Rae. We lock her into the devices and issue brutal corporal punishment harder than she has ever endured before. She is just another object to play with, but then I realize that Daisy needs a little punishment herself. She questions my authority, so she is now thrown into the mix and suffers with Roxanne.