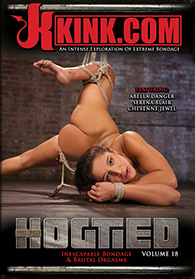 Release date: September 08, 2016
Fetish, Bondage!

Abella Danger
Abella is not your typical 19 year old girl. She knows what she wants and she knows how to get it. She wants to be challenged with brutal bondage, tormented, and then have orgasms ripped from her willing pussy. Her flexibility is exploited to put her body in predicaments that most other girls could not handle. She is abused and punished in a way that only a dedicated pain slut could be and loves every second of it.

Serena Blair
Serena and her fucking perfect little body look amazing in bondage. She is helpless from the first moment that she sets foot on set. The ropes are inescapable and punishing at the same time. She is suspended in a brutal single point suspension that very few can endure. She is tormented and taken to a point of suffering from punishment that she hasn't been to in a very long time. After all of that we make her cum, and holy fuck does she cum. Her orgasms are as intense as the bondage and punishment.

Cheyenne Jewel
Hard bodied vixen, Cheyenne Jewel is back and looking hotter than ever. She begins in a standing spread eagle with her neck tied up as well. Next she is on her side with her legs spread and she is vulnerable as hell. next She is hoisted up and she hangs from her chest and ankles only. With an ass like hers we have to put it on display and spank it. We have to fuck her like this with her face down pressed hard against the surface. She is used exactly the way I want to use her.