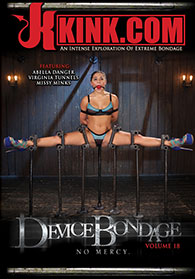 Release date: August 15, 2016
An Intense Exploration Of Extreme Bondage
No Mercy!

Abella is what every real sadist looks for in a submissive. She craves to be helpless, to suffer and enjoy doing it as much as you enjoy making her, and most importantly she needs it to feel human. She is pushed to her limits in grueling bondage positions. Her entire body is tested with extreme torment, and her pussy is exploited to torture her more with screaming orgasms.

Virginia Tunnels is one hard bodied slut that is as fresh as they come. She doesn't know what her limits are because she's so new that she hasn't experienced enough to know what she likes and dislikes. We restrain her in rigid steel and get to work on finding out what makes this slut tick, or in this case squirt.

We begin with Missy locked into a neck trap that allows me to move her around as I need to. There are three stations that I have set up to torment her in. Front and center allow me to issue extreme punishment, the left is a clamp that can be applied anywhere, and on the right is a dildo set to fuck her face and to be used as a gag.