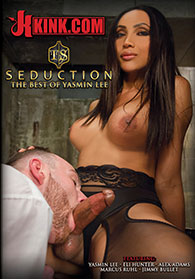 Release date: July 05, 2016


Yasmin Lee seduces, examines and fucks her next hand picked slave in this sci-fi themed shoot. Yasmin's big cock proves effective once again as she revels in probing her thick dick all the way in and all the way out of Eli's ass. It's the painful, pleasure filled plunge fucking that has made so many men bow down to her extraordinary cock.

Today is your day to be demolished by Yasmin Lee's hard, powerful, dripping wet cock! Your day to be spanked, sucked and fucked by the goddess herself. Your day to be told what a little fucking useful slut you are. Enjoy it, because Yasmin Lee doesn't have time to come around and deposit her delicious sticky nectar all over your disgusting hole and dominate you into a pleasure-filled oblivion.

This action packed shoot features Yasmin in all her athletic glory chasing down a poacher in the California wilds. If you thought her cock is impressive, wait until you see her jump over a five foot fallen log and bag her prey. Come and watch hot sex, foot worship, dominating blow jobs and the seductive power of Yasmin Lee and her eight inch cock.

Break enough rules and the devil comes for you. Marcus falls from grace right into the clutches of super horny, mega-hottie, Yasmin Lee. Right from the start, Yasmin has Marcus pinned and is nailing his ass. She cums her trademark massive load all over his face and when the chains come to bind him to hell forever, he does little to resist.