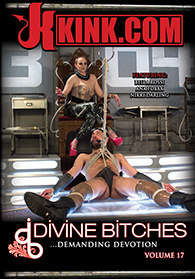 Release date: June 13, 2016
An Intense Exploration of Extreme Bondage Divine Bitches…Demanding Devotion!

In this sci-fi styled update, latex-clad Mistress Bella Rossi ties and teases her submissive DJ out in deep space where no one can hear his screams. She teases and punishes his bound cock and rubs her beautiful latex ass on his face while he begs for more. She flogs him and fucks his ass and allows him to worship her. Finally she uses his cock for her pleasure, cumming on her man meat over and over again and leaving him covered in her juices and his own cum.

Welcome the gun slinging, whiskey drinkin, bad ass Divine Bitch, Ana Fox! You've waited so long and the time has finally arrived. This smokin hot bitch shows you that around her, you are completely powerless. She trains Tony to be her new cock sucking slave on the street, selling his mouth to make her cash. Fucking hot humiliation, spanking, mouth fucking, cock sucking training, pegging, bondage and dildo gag in her delicious sweet pussy are all included!

The doctor is in. In your wife's pussy that is. Nikki Darling's husband has a tiny dick that is completely useless. In search of big cock satisfaction, Nikki takes her husband to the doctor's office for some necessary medical intervention. Nikki's husband is tied to the gyno table with medical straps, locked in chastity and made to watch while his wife takes the doctor's big cock deep inside her wet cunt. He is then made to taste his wife's cum on the doctor's dick. Pussy juice and cum drip on his face and there is nothing he can do about it while he watches his wife have orgasm after orgasm on another man's cock.