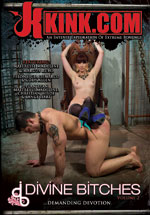 Release date: December 02, 2013
Divine Bitches…Demanding Devotion! An Intense Exploration of Extreme Bondage!

What do all 18 year old boys wish and dream for? They want to be fucked by two hot fem dom babes at the same time!! We do just that for Cody Allen, but Divine Bitches style!!! Cody might only be 18 years old but he dreams of being dominated and used by strong, sexy DIVINE women. He's made to remove all his clothes for a little CFNM humiliation!

Dylan is a highly sexed woman and her husband Lance is just not enough cock for this slutty amazon. While they are out to dinner Dylan suggests bringing home the cute couple sitting behind them at the restaurant but Lance is having none of it. Many glasses of wine later the cute couple end up back at Dylan and Lance's place, and all three of them cuckold Lance together!

I've been using my resources at The Armory to find a personal slave for my home; Marcus Ruhl's slave resume came across my desk by way of a mistress that I know. One of my requirements is that you must be easy on the eyes and have a built body because I require sexual worship on a daily basis and I want to be turned on! Marcus fit this description, but watch Marcus fail miserably before your eyes…the search for a personal home slave continues!